Airocle
Where science meets nature.
Challenge:
Rebrand and reposition Australia's leading manufacturer of natural ventilation. Shifting the company from a manufacturing focus towards a design driven approach.
Solution:
Together with IVR Group we developed a strong brand essence to express the new brand and to guide the development of the brand identity. After extensive research and interviews with clients and staff it was recommended a new name would be needed to help bring the brand essence to life — Airocle. The new name was supported with a new visual identity and brand design that included website, videos, print collateral, signage, packaging, uniforms and guidelines.
Result:
The project has provided Airocle with the right design tools to demonstrate that they are the leaders in natural ventilation and establishes them as a trusted knowledge resource.
''Our new name is meaningful and captures the essence of our new brand strategy. Louise struck the perfect balance of what we do and what we want to be known for. The naming process was professional, collaborative and helped us embrace the new direction of our journey. Chris had a very clear vision for our new brand, we've got a great story to tell and we're experiencing improved results." - Stephen Bird, Managing Director – Airocle
Recognition:
Graphis 2017 Design Annual, Silver
REBRAND 100 Global Award Winner
Naming
A selection of interviews with staff and clients conducted by our naming director to inform the brief and selection criteria. A list of names ordered by theme and categories was presented. Each name is vetted for url and legal availability.
 

The chosen name was'Airocle' - a unique and ownable name that reflect the brand strategy of combining nature and science.
Brand Design
The final identity drew on nature for inspiration and is epitomised by the hummingbird: a dynamic, vibrant creature known for it's remarkable abilities in the air. A new name and a clearer product naming system were implemented across applications that were specifically designed to reflect the brand strategy.

We looked to the best design-led brands to see where the bar was set, and redesigned every element of the brand to create something architects and engineers would want to be associated with - a design-led company, solving complex problems with innovative products. We worked with a range of supporting agencies to ensure the final product from website to brochures was consistently on brand.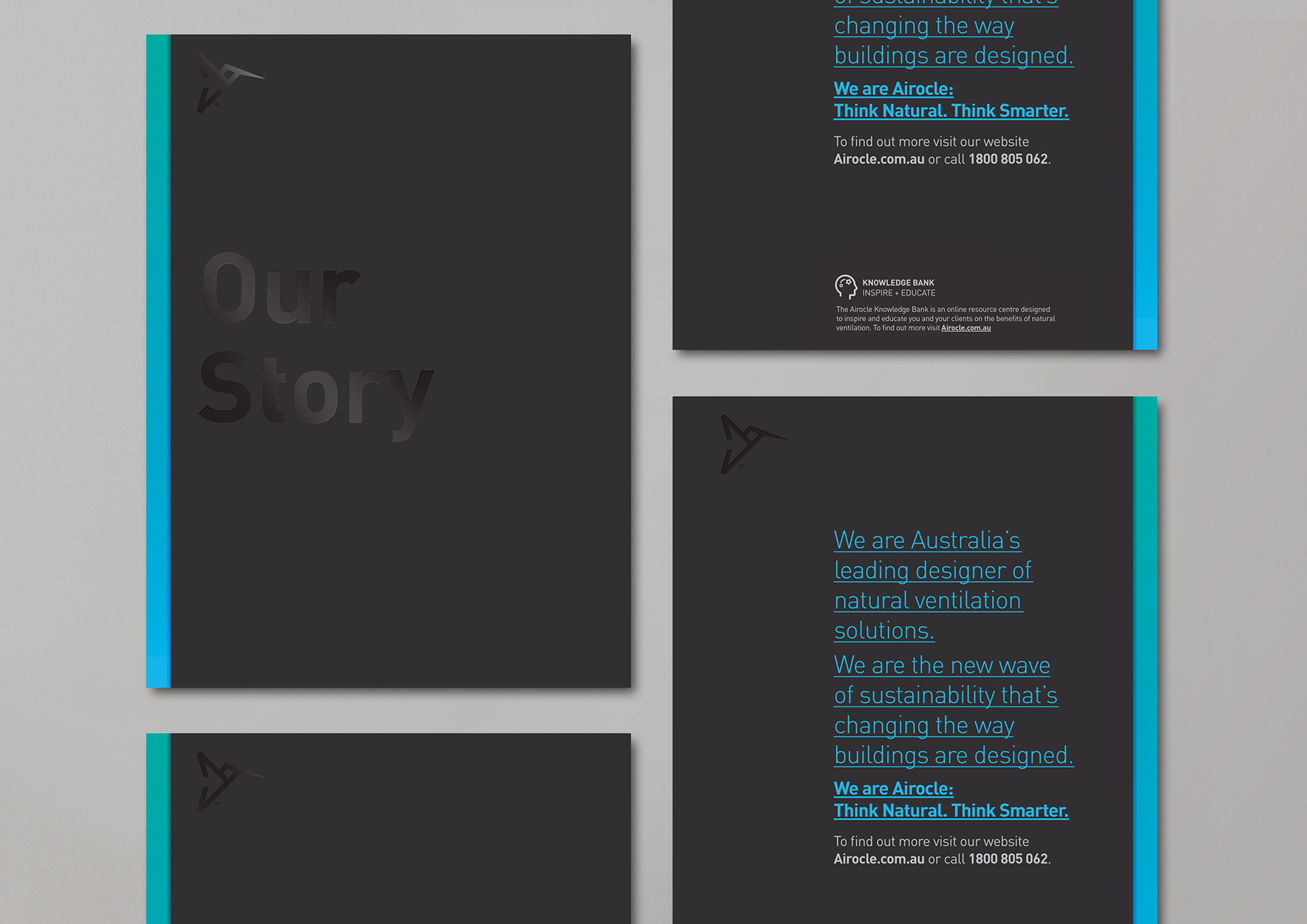 Knowledge Bank
Client testimonial videos were created with HelloFuture to reinforce the brand truths, supported by an innovative digital wind-swept logo animation to reflect the new design approach created by UK based MainFrame.

Insights identified in the immersion, strategy and naming sessions were called on to establish the Airocle 'Knowledge Bank' - an online resource centre to inspire and educate clients on the benefits of natural ventilation.
Launch
In April 2015, 20 months after the initial strategy session Airocle was launched at their head office in Picton. New signage and a video wall telling the Airocle story in reception welcomed staff.

A 'brand pack' including the Airocle brand book, new business cards, uniforms, supporting material and a few special gifts were presented to staff.